-= My Scorbot ER-4=-
Shown below is my Scorbot ER4-PC robotic arm working cell.
I have modified my ER4-PC Umbilical cable, by soldering a DB9 connector to each set of wires for each Axis Motor on the Robot. I purcahsed this unit broken and the cable had been cut, and I was deprived of its stock 50-Pin connector.
Performing this MOD allowed me to interface the Robot to a Scorbot "CONTROLLER-A" robot controller and run it in the "Scortbot ERV+" mode.
Scorbot ER-4PC Robot & Controller-PC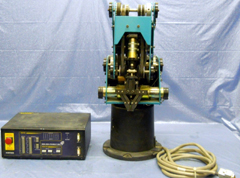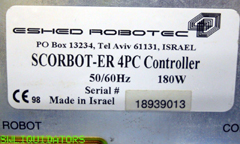 ER-4PC Robot Controller-PC
Servo Control Card Model "PC11000"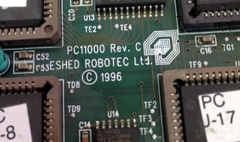 ER-4PC User Manuals
Below are download links to the ER4-PC Robot User manual, and also the User manual for the "Controller-PC" robot control module. This controller manual covers the required software settings, and also covers the Controller-PC "Servo Control card". (Card model "PC11000").
http://www.digital-circuitry.com/FILES/Scorbot_ER4-PC/ER-4PC_Users_Manual.pdf
http://www.digital-circuitry.com/FILES/Scorbot_ER4-PC/ER-4PC_Controller-PC_Users_Manual.pdf
-= Scorbot "Controller-A" model =-
The ER-V & ERV-PLUS Controller-A is shown below.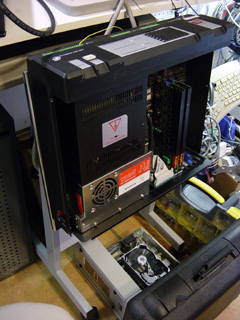 The software interface for this "Controller-A" model is called "ATS" which stands for "Advanced terminal software". The language used to program the robot is called "ACL" or "Advance control Language". The ATS software package is also a DOS based control software.
The interface from the PC to the Controller is an RS-232 serial connection.
Shown below are a series of screen captures of the "ATS" software GUI and a few of its sub-menus.
A warning at the bottom of the screen is shwon when your controller is unable to connect to the PC software via the RS-232 serial interface.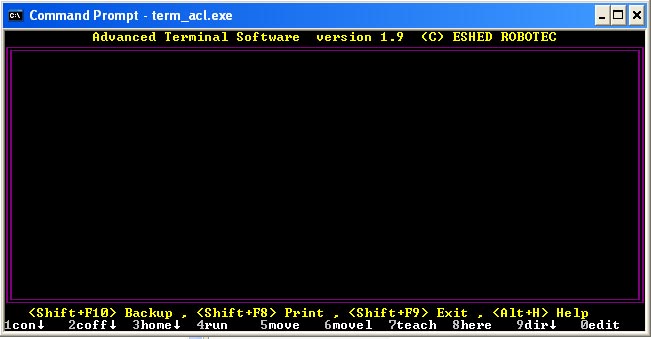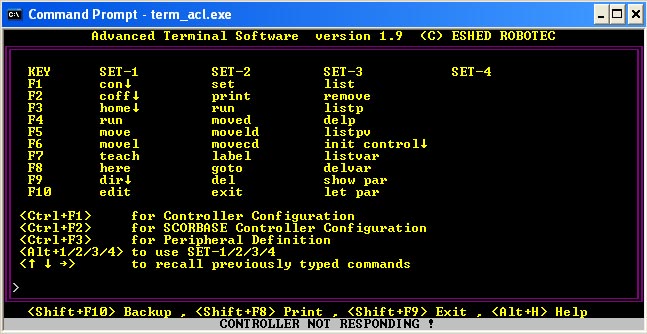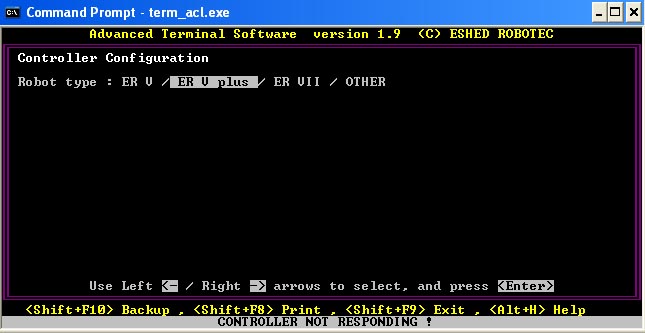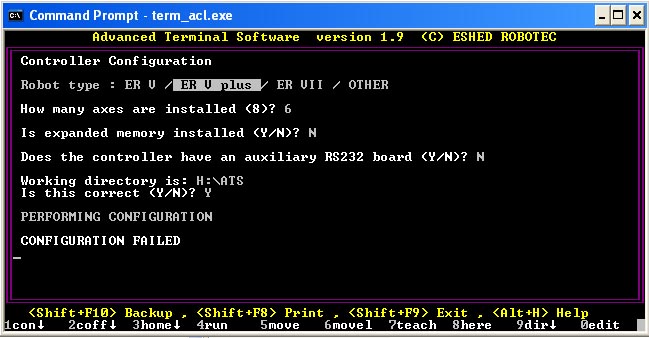 If your looking for manuals and the old DOS software for scorbots, visit the link below:
Join the Scorbot Yahoo Group Today!!
http://tech.groups.yahoo.com/group/ScorbotUserGroup/