Gerry's Messy Electronics/Robotics
Laboratory
Click the button below to go Back to the "CHIPPERY " section of my Lab
Altera MPU Adapter model numbers explained
Shown below is the Adapter ordering info for Altera MPU adapters. This clearly indicates and explains the numbering system used for Altera MPU adapters.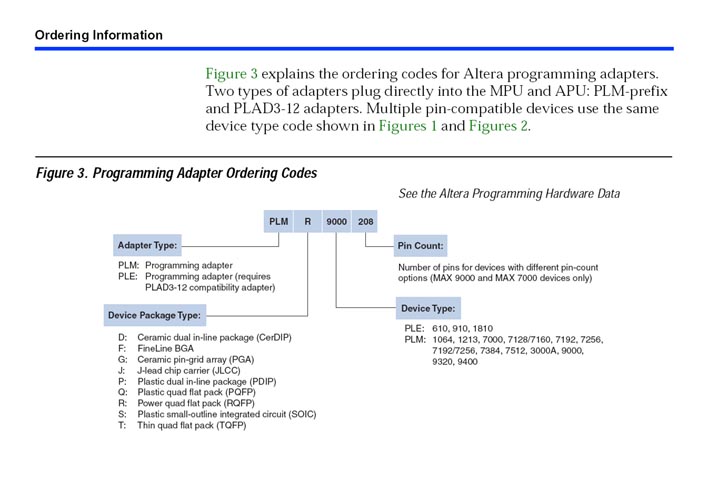 You can also review the more recent "Altera Programming Hardware" document at the link below for a complete list of available MPU/APU adapters.
http://www.altera.com/literature/ds/dspghd.pdf
Altera Plastic QFP Chip Carriers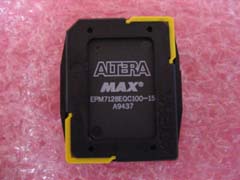 You can see one of the Altera Plastic Carriers in the center image above.
Altera CPLD Chips come in various package formats. For devices of 100 Pins and over, the chips come in special plastic carriers. The carriers not only protect the chips pins from accidental damage, but also provide protection while the device is being programmed or is being shipped to the customer. Some models of adapters (PLMQ & PLMR) for the Master programming unit are designed to have the chips inserted with the protective Carriers on the chip. Various MPU adpters will have the Suffix "NC" at the end of the adapter Model#, indicating it is a "NO CARRIER" type of adapter.
You can read specific information on Altera QFP Carriers from the Altera Datasheets listed below:
"QFP Carrier & Development Socket Datasheet"
&
"Ordering Information Document"
http://www.digital-circuitry.com/ALTERA_QFP_Carrier_&_DEV_Socket_Datasheet.zip
http://www.digital-circuitry.com/ALTERA_DEV_Hardware_Ordering_Codes.zip
-= My collection of Altera MPU Adapters =-
-= Altera MAX 7000 Series =-
PLMJ7032
PLMJ7000-44
PLMJ7000-68
PLMJ7000-84
PLMT7000-44
PLMT7000-100NC
I finaly found this PLMT7000-100NC MPU adapter from an online Industrial surplus store. I've been hunting around for this adapter for years. This adapter is one of the more sought after and rare PLMT models. Reason for this is the TSOP 100 pin Altera MAX 7000 chips are very very popular amungst Hobbyists. Most users are left with no choice but to use the JTAG ISP Programming option. The advantage of this adapter is no doubt "JTAG-Lockout". This is a very Rare and sought after adapter. I'm very happy to finaly add this Beauty to my collection. :) jYes....Very Nice!!
PLMT7000-144NC
PLMQ7192-160
PLMQ7128-160
PLMR7256-208
PLMR7256-208NC
PLMF7000-100
This is an extremely rare and almost impossible to find Altera MPU Adapter. I managed to find this model in an online Indsutrial Surplus store.
These "Ball Gate Array" .....or "BGA" adapters are very rare. Most of the BGA type adapters were crazy expensive, hence their extreme rarity.
PLMF7000-100
So finaly after many years...I have managed to find and purchase this very rare and expensive Altera MPU adapter. I have been looking for a long time to find one of these BGA adapters and I'm pretty excited to have this beauty in my collection. :) Very nice!!
Below are some more stock pictures of a similar version of this adapter.
Some custom modifications were performed on this model below by the company Engineering team.
PLMF7000-100
Shown above is a very Rare 100 Pin BGA Adapter model# PLMF7000-100. A fellow Engineer was kind enough to send me some phoots of this adapter that his company was using. They had installed a specific BGA socket to accomodate one of their components. Very Nice!!! :)
PLMUEPC-88
PLMUEPC-88
Here is yet another extremely rare Altera MPU Adapter. Released in 2001, this is one of the newer models that were manufactured for the Altera MPU. This is an "Ultra FineLine BGA" adapter for EPC16 88-pin UFBGA configuration chips. I wasn't even familiar with these components until I read the Datasheet. I managed to find this Adapter in an online Indsutrial Surplus store. A Sweet Find!!
-= Altera MAX 9000 Series =-
I managed to pickup this "PLMJ9400-84" adapter from a LOT auction on eBay. I had to get a few other adapters which I already owned... as the seller did not want to sell them individually. Overall I was glad with the purchase even tho it was a little more than I had hoped.
These Altera MAX 9000 series MPU Adapters don't come up that often, as they were not as popular as the MAX 7000 series.
PLMJ9400-84
The Altera "PLMJ9320-84" MPU Ada[ter
This is the latest addition to my Altera MAX 9000 MPU adapter collection.
Yet another eBay find... I had to negotiate with the seller before agreeing on a Price. I paid too much for this in my opinion but it was the first one I had ever seen on eBay so I figured it would be a long time before it would come up again.... so I grabbed it.
Once it arrived in the mail, I could not believe the condition it was in. It had never been used I think. It was in absolute Pristine condition, not one scratch on it or any signs of dust. It must have stayed inside its anti-static bag while in storage.
Absolutely Fantastic !!!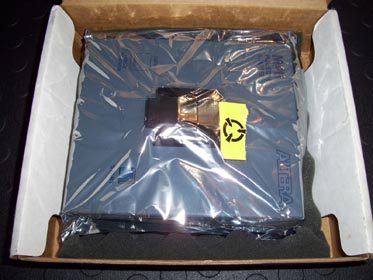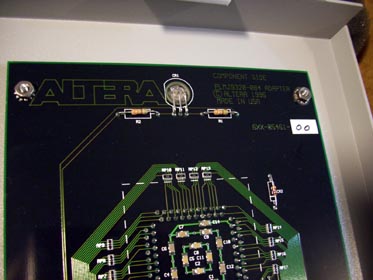 PLMJ9320-84
I spotted this "PLMR9000-208" on eBay not too long ago and grabbed it right away.
I have been waiting a long time to find this 208 pin adapter of the 9000 Series. It came with a big price tag in terms of a used adapter, but it was worth it.
This was a great Find.
PLMR9000-208
PLMJ1213
PLMJ5128A
Various PLAD3-12 MPU Base
Secondary Adapters are shown below.
If you're into the older Altera CPLD's you can Join my Altera Yahoo Group:
http://groups.yahoo.com/group/AlteraMAX7000/