Gerry is an experienced Electronics & R.O.V. Robotics Technician. He enjoys working on his own R&D projects in his home based electronics Lab. Projects involving CPLD and FPGA interfacing remain to be at the top of his list. From building custom mechatronic Robotics systems, to Logic device programming using the hardware description language "VHDL". Gerry currently works for a Motion control Robotics company as an "Electronics Test Development Technician". Working alongside the development team to produce testing infrastructure; this includes source code programming to facilitate automated testing using custom made HMI interfaces.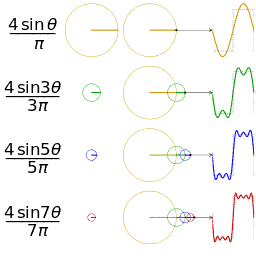 Greetings to all Electronics Hobbyists!
Like the Visual demo of the Square wave generation shown above? Check out The Fourier series.
Use the side page links to navigate your way around my site and check out my "PROJECTS" Page and the "MY LAB" page if you get a chance. I've got some cool TonKa trucks to play with in the sandbox.....
....so to speak.
As for the "PROJECTS" section,
I will be laying out various details on both Completed and ongoing projects that I'm working on. I will include procedures, photos, schematics and also instructional videos that I have put together for certain projects. My hope is that this website will help inspire others to learn and hopefully help them build their own versions of these great and fun projects.
If you like the fun of the build.....then you've come to the right place!
Cheers Folks!
-Gerry
Below are a few Forums I highly recommend you join:
------------------------------------------------------------
http://www.edaboard.com/forum30.html
Need some help with your VHDL code? or your other Engineering related projects? Join the edaboard.com forum. Talk with other Professionals in the industry to help troubleshoot and solve your Engineering problems. A great resource. Their Forum web-based GUI is fitted with a CODE and COMMENT formatting. This makes your Message posts very clear and organized, to properly aid others in assisting you. Fantastic resource.
https://groups.yahoo.com/groups/AlteraMAX7000/
A group devoted to the Altera CPLD MAX 7000 Family series of CPLD chips. Discussions from VHDL to Universal programmers and the Altera MPU and APU Chip programmers.
https://groups.yahoo.com/groups/Data_IO_EPROM/
"DATA I/O" brand name Universal Programmers Group.
Gerry's Electronics Lab Featured in Circuit Cellar.com

See some of Gerry's Projects on
SMSPower.org

http://www.smspower.org//FlashCartByGO
and Hackaday.com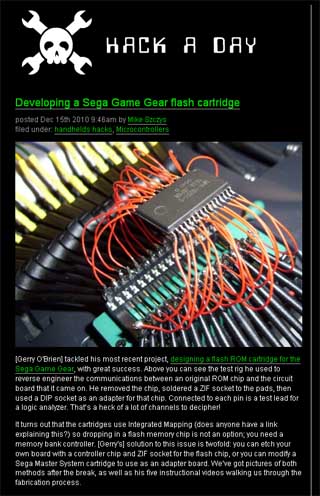 http://hackaday.com/game-gear-flash-cartridge/
Also, just so you know... I own a Flux-Capacitor.